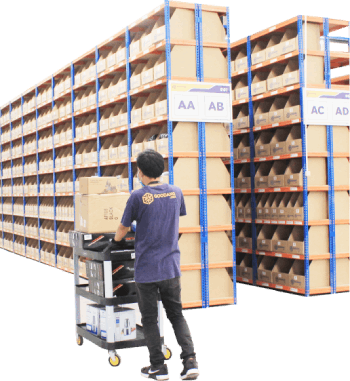 FULFILLMENT
CENTER
We keep your inventory safe in our Fulfillment Centers and handle overall warehouse operation from setting the product stock to delivering orders to the courier.
Our Profile
Customers send Inbound notifications

Goodang checks, receives goods, and makes placements
Inbound
Goodang performs stock calculations (Cycle Count)

Transfer Process

Stock Transfer

Stock replenishment
Storage
Kitting

Bundling

Labeling

Packaging
Value Added Services
Shipping checks and traceability through courier companies
Shipment
Goodang received order notifications

Goodang takes and packs goods

Handover to LMD
Outbound
WHAT'S ON GOODANG.COM?
Our Fulfillment Services
5,900
Wide Area
45,000
Capacity
3
Storage Area
5
Delivery Service
Our mission is to be a global service provider driven by customer satisfaction, responsive, flexible and cost effective, achieving this vision through employee pride and commitment.
FAST LINK
ABOUT GOODANG.COM
SERVICES
CONTACT GOODANG.COM
SOCIAL MEDIA
Copyright © 2019-2022 goodang.com Company All rights reserved.